To review the previous tutorial in this series, click here.

To to back to the start of this series, click here.
"CUSTOMIZING YOUR WEB PAGE"
Welcome to the sixth tutorial in our "Getting Started" series.

In this tutorial you will learn more about the Website Control section.
If you have been following along, you will have already explored Clinic Settings and User Accounts.
Website Design: Your website can be customized as much or as little as you wish. The site comes with many beautiful ready-made layouts and designs. Click here for information on how to add your logo or customize your website's theme and color.
My Pages: To get you started, your system comes with a number of relevant, professionally designed, informative pages that are already displayed on your website. These pages can be easily customized to suit your specific practice using the website publishing tools.
Note: In addition, the site comes with a series of interactive pages that will enable you to take appointment requests online. Your clients will be able to access your appointment book and make booking requests 24/7.
Default Pages: Your website comes loaded with several important pages by default. You can use the words and paragraphs that are there, edit them, add to or change them, or simply delete them. You may also load new pages from the page library. For information on how to do that, visit our knowledgebase.
The pages that are pre-populated on your site include:

Home - An editable page intended to welcome Internet visitors to your site and to introduce them to your practice.

Appointment Book - A series of template pages designed to allow your clients to request treatment sessions with you 24 hours a day 7 days a week. The session time availability on this page is completely dynamic and up to the minute. It is based on your clinic's hours of operation, offered services, and your current booking status.
Note: The appointment book is available in two style

The Benefits - An editable page intended to educate Internet visitors on the benefits of massage therapy.

The Therapy - An editable page intended to educate Internet visitors on the practice of massage therapy.

Applications- An editable page intended to educate Internet visitors on the general applications of massage therapy.

Cancellation Policy - An editable page intended to define, to your site visitors, your appointment cancellation guidelines.

Privacy Policy- An editable page intended to define, to your site visitors, your privacy practices.
MAKING CHANGES
Adding New Pages: To add a new page from our page library, simply click the Add New button

and choose the Page Library tab. For more information on how to do this, visit our knowledgebase.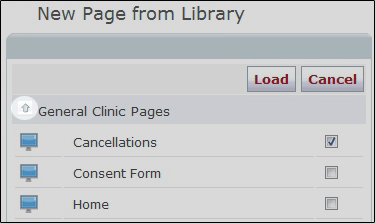 Changing Page Order: To change the order your pages, simply click and drag to move the page up or down.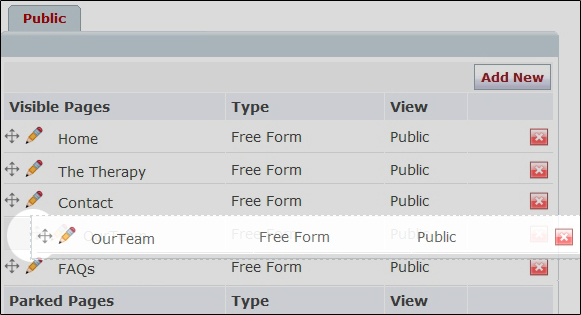 Note: You can also create submenus! To do this, simply drag to the right to attach an a page to the one above it. To remove, drag to the left.
Remember to visit our Support Center at www.mindzplaysupport.com if you need assistance.