"How do I manage my patient SOAP Notes?"
The Client SOAP Note tool allows you to document and monitor client treatment activities and progress. Notes can be recorded on each session and then reviewed before the next session.
Saved SOAP notes can be reviewed, modified, or deleted from the SOAP history page.
Here's how to use the SOAP history page.
Navigate to Patient >>> Records

From the SOAP history tab, you can search your patient's notes by selecting a date range and/or practitioner from the search tool at the top of the screen.

Clicking the PRINT button will generate a PDF for you to print out all of the patient's notes for the currently selected period.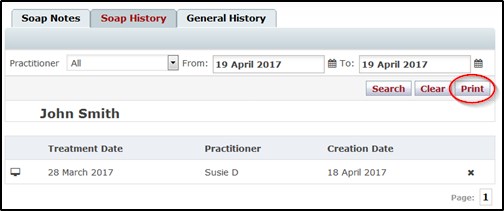 To view individual notes, you can click the screen icon beside the individual note in the search area that you wish to view.

To delete a SOAP note, click the X icon beside the note in question to delete it.